Learning by Example: A Glimpse into the Real World of Construction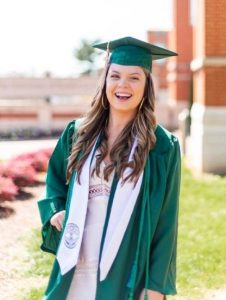 https://groundbreakcarolinas.com/
Just like any student whose major isn't construction related, I had no idea what I was getting into when it came to taking this internship. But to my surprise… it isn't all hard hats and hammers around this place, although I am looking forward to getting real "hands on" construction experience.
I learned quickly that the heart of the commercial construction industry is based on a tight-knit family approach to creating functional work spaces. The construction industry is full of people that love working together toward a common goal. The men and women that I work with are exceptional at what they do. Whether it's bidding, estimating, preconstruction, field work or billing, everyone works as a team to make sure the job gets done. I've gotten to see up close and personal that they continue to better their community through the work that they provide. What I've taken away from working with this team is the importance of implementing efficient practices, having a helpful attitude, and investing in your employees. https://catalystcci.com/about/
So why is an internship program important? I slowly have begun to realize that I can challenge "the way they've always done it," and truly capitalize on the things I know best through my education at the University of North Carolina at Charlotte. Sometimes a fresh, new perspective is just what a business needs to push an idea out of the box. I found myself questioning a lot of the standard processes and offering fresh ideas. An outsider's perspective can be invaluable to top managers. It's also no secret that the next generation is typically more efficient with technology, and could be the gateway to improving your social media, website, or even computer programs.
I've learned more real-world applications and concepts than any book can teach me, and you can't put a price tag on that. Internships provide the opportunity for students to learn by example what to do in the business world, not just the basics of customer service and employee discipline that they could learn otherwise. No textbook will teach you the value of tracking and documenting your steps, or that it sometimes is okay to say "no" in the business world. Saying no has become crucial for me when it comes to effective work. Sometimes people just aren't able to take on the workload that's being asked; and that's perfectly fine. My job is to produce efficient and effective work, while prioritizing what is most critical to our project deadlines.  Sometimes putting that first can take precedence over another thing that's being asked of you.
My boss, Gary Olnowich, takes time out of his day to answer any small, meticulous questions I might have, just to ensure my own understanding. I wouldn't trade this job for the world, and I know how valuable it is now for other people my age to gain this type of first-hand knowledge. Knowledge is power, but learning is growth, and that's something I'll always carry with me. What I gained from this internship experience is knowledge that will last me a lifetime, and I'm so blessed to have this job and the people that surround me.
Gracie Hunter, an intern with Catalyst Construction Company, joined Catalyst as a full-time employee in May 2019 following her graduation from the University of North Carolina at Charlotte (UNCC) where she received a B.S.B.A. in Marketing with a Concentration in Marketing Analytics & Intelligence. #CharlotteStrong